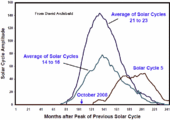 There is another way of looking at solar cycles.
Solar cycles actually start with the magnetic reversal near the peak of the previous cycle. The sunspots take seven years to surface and become visible. Almost all sunspot cycles tend to be about 18.5 years long, measured from the peak of the previous cycle.
The above graph compares the average of three cycles, 21 to 23, from the late 20th century with three, 14 to 16, from the late 19th century (which had much colder weather). Also included is Solar Cycle 5, the first half of the Dalton Minimum.