A team of NASA and university scientists has detected an ongoing reversal in Arctic Ocean circulation triggered by atmospheric circulation changes that vary on decade-long time scales. The results suggest not all the large changes seen in Arctic climate in recent years are a result of long-term trends associated with global warming.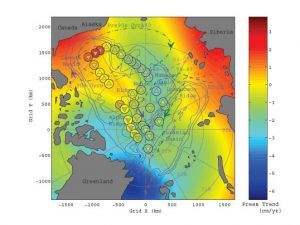 ©NASA
This shows contours of the trend in ocean bottom pressure from 2002 to 2006 as measured by GRACE along with hypothetical trends that would apply at the circles if ocean salinity reverted from 1990s values to climatological conditions over the same period.
The team, led by James Morison of the University of Washington's Polar Science Center Applied Physics Laboratory, Seattle, used data from an Earth-observing satellite and from deep-sea pressure gauges to monitor Arctic Ocean circulation from 2002 to 2006. They measured changes in the weight of columns of Arctic Ocean water, from the surface to the ocean bottom. That weight is influenced by factors such as the height of the ocean's surface, and its salinity. A saltier ocean is heavier and circulates differently than one with less salt.