The world is heading for an ecological credit crunch as human demands on the world's natural capital reach nearly a third more than earth can sustain.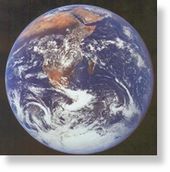 That is the stark warning contained in the latest edition of WWF's
Living Planet Report
, the leading statement of the planet's health. In addition global natural wealth and diversity continues to decline, and more and more countries are slipping into a state of permanent or seasonal water stress.
"The world is currently struggling with the consequences of over-valuing its financial assets," said WWF International Director-General James Leape, "but a more fundamental crisis looms ahead -- an ecological credit crunch caused by under-valuing the environmental assets that are the basis of all life and prosperity."
The report, produced with the Zoological Society of London (ZSL) and the Global Footprint Network (GFN), shows more than three quarters of the world's people now living in nations that are ecological debtors, where national consumption has outstripped their country's biological capacity.