Why did the elephant cross the road? It didn't according to a new study by the Wildlife Conservation Society (WCS) and Save the Elephants that says endangered forest elephants are avoiding roadways at all costs. The authors of the study believe that these highly intelligent animals now associate roads with danger - in this case poaching, which is rampant in Central Africa's Congo Basin.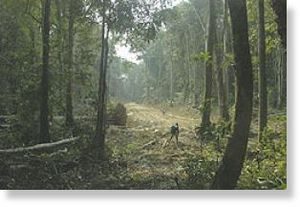 According to the study, which appears in the October 27th issue of the journal
Public Library of Science (PLoSONE),
forest elephants have adopted a "siege mentality," forcing populations to become increasingly confined and isolated. This in turn reduces these normally far-ranging animals' ability to find suitable habitat; thereby threatening long-term conservation efforts.