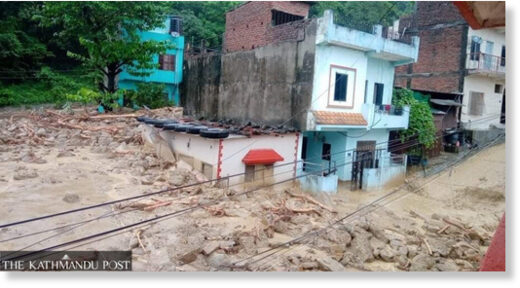 Three people have died and two have gone missing due to floods and landslides in various parts of the Darchula district.
The flooding and landslip that occurred following incessant rain on Sunday night damaged the physical infrastructures as well as caused human casualties in various places of Duhun rural municipality and Mahakali municipality.
Narsingh Mahar and his wife Kausha Mahar were killed when the landslide buried their house at Baspalika of Duhun rural municipality. The landslide occurred in the night when the couple were asleep, DSP Manohar Prasad Bhatta says.

Similarly, Manuwa Dadal was killed due to the flood at Dulla of Duhun rural municipality-5. The flood in the local Kalagad rivulet which occurred at around 10 pm swept away Dadal's house.