Researchers discovered a legless lizard and a tiny woodpecker along with 12 other suspected new species in Brazil's Cerrado, one of the world's 34 biodiversity conservation hotspots.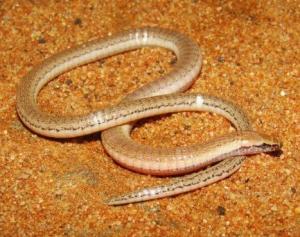 ©CI/Cristiano Nogueira
This species of lizard of the genus Bachia is one of the new species discovered during the expedition. Although there are other species of the genus in the Cerrado (almost all discovered and described only recently), this new species has only been recorded in the Ecological Station. The absence of legs and the sharply pointed snout help in locomotion over the surface layer of sandy soil, predominating in all the Jalapao, formed by the natural erosion of the escarpments of the Serra Geral plateaus.
The Cerrado's wooded grassland once covered an area half the size of Europe, but is now being converted to cropland and ranchland at twice the rate of the neighboring Amazon rainforest, resulting in the loss of native vegetation and unique species.