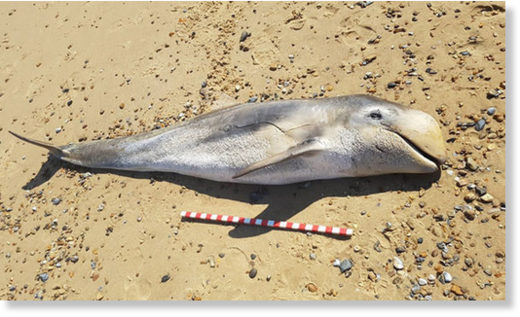 Marine experts are trying to discover why strange looking dolphins are beginning to turn up dead hundreds of miles from their deep sea haunts. Two bull-headed Risso's dolphins have washed ashore, the first time in 50 years the mysterious-looking creatures have been found in the southern reaches of the North Sea.
The Zoological Society of London has retrieved the dolphin carcasses from near Great Yarmouth over the weekend and will be conducting post mortems to discover how the creatures had died.
Rumours have emerged that the dolphins may have fallen victim to a great white shark attack because they were scarred, but skin gouges are a common sign on these type of marine mammals because of injuries they receive eating their favourite food, squid.
What concerns conservationists is the way the dolphins were found in a southern stretch of the North Sea when, by rights, they should be hunting squid and octopus around the western Scottish and Irish coastlines.