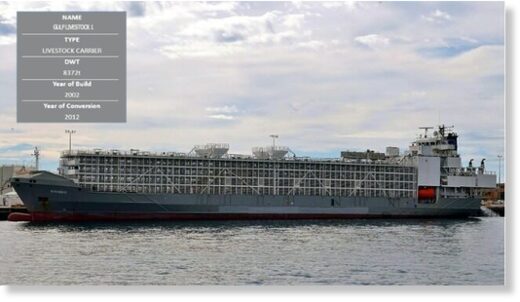 A Panamanian-flagged livestock carrier with a crew of 43 is feared lost southwest of Japan after encountering a typhoon moving across the region.
Japan's Coast Guard reported receiving a distress call and later finding one seafarer in the ocean with a life jacket and an empty lifeboat. No additional signals were received from the vessel after the first distress call.
The search for the missing vessel believed to be the
Gulf Livestock 1
was conducted all day on Wednesday, September 2 local time. Four coast guard vessels and airplanes are reportedly conducting the search-and-rescue operation. It, however, was suspended until daylight Thursday local time.
Before calling off the search the Japan Defense Ministry reported that they had located one person apparently in the ocean in the area of the last known position of the vessel. Media in Japan are saying that the Coast Guard reported it was a male Filipino crew member and that he was in non-life-threatening condition. In addition, an empty inflatable life raft was reportedly spotted but it is unclear if it was from the
Gulf Livestock 1.