Earth Changes
WHAT'S HAPPENING IN OUR PLANET
YouTube
Fri, 04 Sep 2020 10:57 UTC
---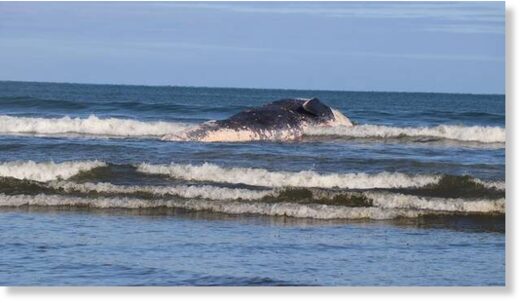 The remains of a huge sperm whale have washed ashore at Hokio Beach near Levin this morning.
The dead whale was spotted at first light by people taking an early morning walk and also by a couple of people on horse back.
Hapu from local iwi Muaūpoko were gathering to observe tikanga and conduct a karakia as the waves nudged the beast closer the waters edge.
The whale was being carried in by the incoming tide although the surf was very small. High tide at the beach today was just before lunch today.
---
BIG LOUIS TV
YouTube
Thu, 03 Sep 2020 10:12 UTC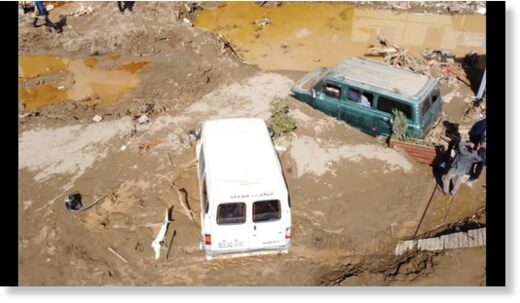 Heavy rain caused massive flooding in Algeria in the region of Batna and Tebessa. Torrential thunderstorms that took place from Wednesday night to Thursday in the northern part of the wilaya of Batna (eastern Algeria).
The civil protection services have made use of all human and material capabilities, including the mobile convoy detachment to fight forest fires in Fesdis, to absorb the flood waters and help the citizens who were stuck in their cars due to the heavy thunderstorms witnessed by the municipalities of Fesdis, Al-Ma'ather, Boumieh and a special crime at the level of the underground tunnel adjacent to the University of Batna 2 which was completely flooded.
---
Max Golembo
ABC News
Fri, 04 Sep 2020 23:45 UTC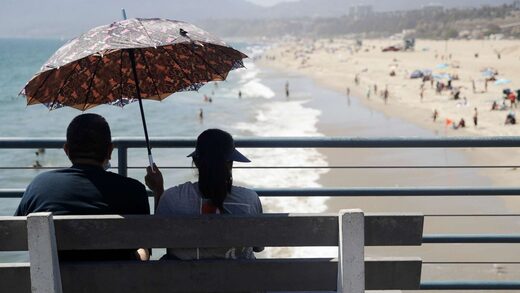 Record-breaking heat is expected in the West during the holiday weekend, including Los Angeles, where the power grid could be put to the test.
Already Thursday, record highs were tied in Palmdale, California, at 106 degrees and in Portland, Oregon, at 95 degrees, but this is just the beginning, especially for southern California and the Southwest.
Some areas could see the hottest temperatures of the year so far in southern California during Labor Day weekend.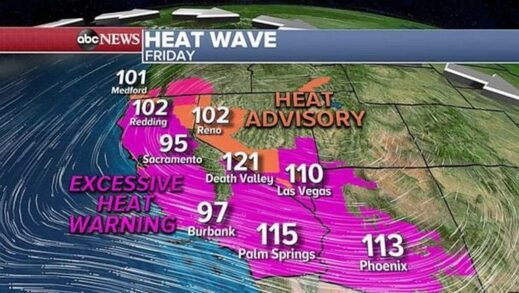 There are already several excessive heat warnings and advisories, including a warning for Los Angeles and advisory for San Francisco throughout the weekend.
---
Xinhua
Fri, 04 Sep 2020 19:44 UTC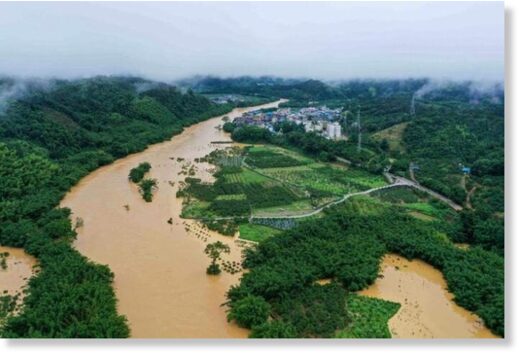 A total of 6.86 million people were affected by rain-triggered floods this year in central China's Hunan Province, local authorities said on Friday.
Downpours in the province have led to the deaths of 24 people,
according to the provincial flood control and drought relief headquarters.
Roughly 21,300 houses collapsed or were severely damaged, and about 628,000 hectares of farmlands were damaged by the heavy rains.
---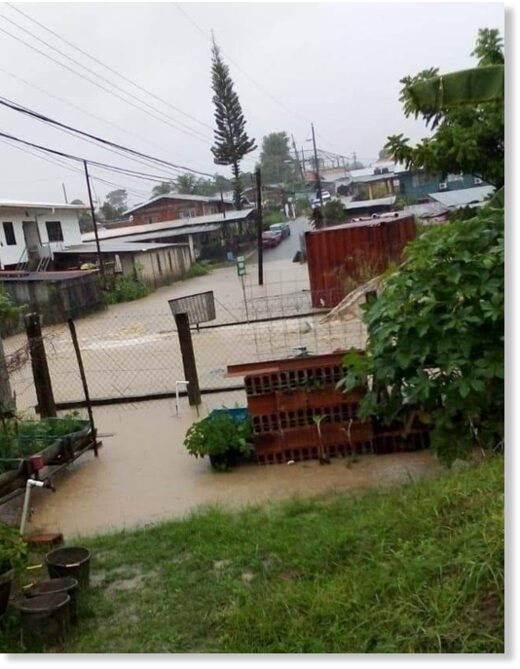 Already struggling from the economic impacts of the COVID-19 pandemic, residents of Gasparillo lost most of their belongings yesterday as
heavy rain caused floodwaters to rise as high as five feet in some areas.
Parts of Arouca, Lopinot and Chaguanas were also affected by street and flash flooding.
Guardian
Media spoke to Gasparillo resident,
Videsh Gopaul who said although those who live on Gopaul Avenue have had to contend with floodwaters in the past, yesterday's event was by far the worst.
"My family in the back are completely flooded out, I just spoke to them and they have lost everything, they have almost five feet of water in their house. They lost fridges, stoves, books, washing machines, computers, beds, wardrobes, sofa sets, everything is lost," Gopaul said.
---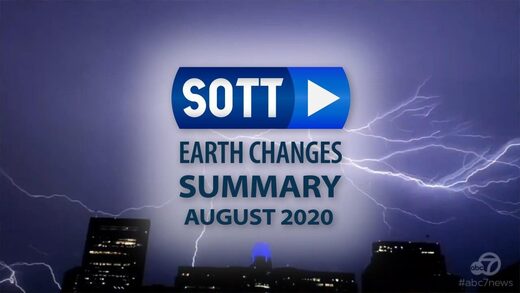 Last month, more than 1.5 million acres burned in 9 days in California, forcing the evacuation of more than 100,000 people.
The fires were caused by unusual intense 'dry-lightning storms', which focused on the San Francisco Bay area
in a short time period - an event comprising around 11 percent of the average annual lightning activity for the entire state...
No, it's not 'man-made global warming', as the media claims, nor is it 'elite-made weather', as alternative media claims. The climate globally is 'going wonky' in part because the planet's very atmosphere is changing.
Extreme weather has only worsened the exodus of people from California over the last decade. About five million Californians have left the state for a net population loss of more than one million people. Colorado was also hit last month by the largest wildfire in the state's history. The Pine Gulch fire has burned 139,006 acres and left ranchers with little-to-no grazing for cattle and worried about long-term impacts.
In Algeria, over 1,200 fires have devoured almost 9,000 hectares of forests. The North African country has experienced more frequent forest fires in recent years but the causes remain unclear. Negligence? Coal-traffickers? Increased lightning strikes? Who knows, but the fact is something unusual is going on there too.
Sheets of rain, typically resulting heavy flooding, landslides and huge hailstones continued destroying houses, basic infrastructure and crops around the world in August, impacting the lives of dozens of millions of people. In South Asia alone, an estimated 17.5 million people suffered the consequences of record-breaking monsoon floods. Nearly 700 died and thousands have been displaced. China, Bangladesh and India continue to be the most affected.
South Korea has suffered from unusually heavy downpours for over 2 months now, marking the country's longest and worst-ever monsoon season. Now, the strongest typhoon of the year is on its way to the Korean peninsula, so the deluge is unlikely to abate anytime soon.
Snow in Australia, southern Brazil and South Africa is normal this time of year - it's still winter there (barely), but what are we to make of August snowfalls in Yunnan, China; Dagestan, Russia; the Alps and Pyrenees in Europe? A foretaste perhaps of a cold northern winter to come.
Given the amount of water falling out of the sky the world over, if the unprecedented slowdown in the North Atlantic Gulf Stream holds, we may soon be entering an extended winter.
All that and more in our SOTT Earth Changes Summary for August 2020:
---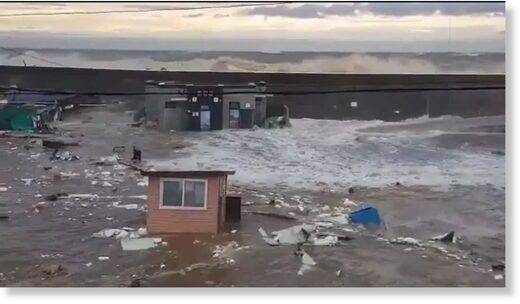 Torrential rains due to typhoon Maysak caused heavy flood damage in parts of North Korea on Thursday, and also prompted residents near Mount Kumgang to evacuate, state-media reported.
The Korean Central Television Broadcasting Station has been running breaking news in real time and updates on the ninth tropical storm of the season nearly every hour since 6 p.m. Wednesday, reports Yonhap News Agency.
Source: IANS
---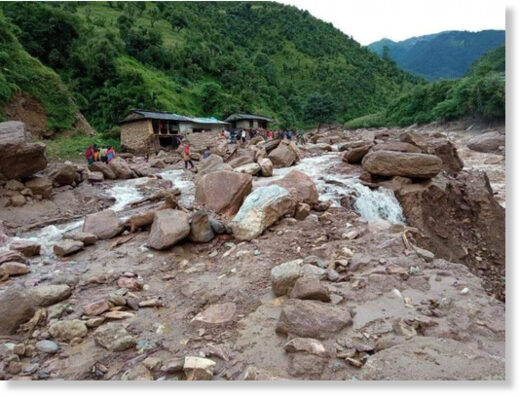 The disaster occurred in Dhorpatan Municipality on Wednesday midnight when Bhuji river blocked by landslide debris flooded the settlements along the river banks.
Nim Bahadur BK, a resident of Lankuribot in Dhorpatan Municipality Ward No. 9, Baglung district, woke up to find his house shaking on Wednesday midnight. The 45-year-old woke his wife and three children up and rushed outside just before the floodwaters from Bhuji River swept his house away.
"We spent the night under the open sky in the pouring rain," said BK.
Fourteen people died while at least 41 others went missing in Wednesday night's flood and landslide in Dhorpatan Municipality.
"Three individuals have been injured in the disaster and are currently receiving treatment at Burtibang Health Post," said Inspector Prakash Singh Bhandari of the Area Police Office in Burtibang.
---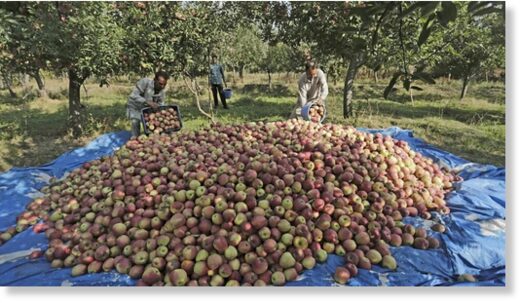 Forty-two-year-old travel agent Mumtaz Ahmad had invested his savings in the horticulture sector hoping to make up for the losses suffered in the tourism business for the last one year.
Despite buying costly pesticides and employing highly skilled laborers to upkeep his apple orchards, he is struggling to reach a breakeven point as the inclement weather and disease coupled have hit the horticulture sector badly
"This year, the scab has hit the apple crop. Even the production, which was expected to reach an all-time high has halved now.
This is going to be the worst year for apple growers," he said.
For the second year in a row, farmers are staring at huge losses given the disease and drop in production due to substandard pesticides.
---