Researchers from the Department of Biological Sciences have discovered a previously unknown coral reef in the Seychelles.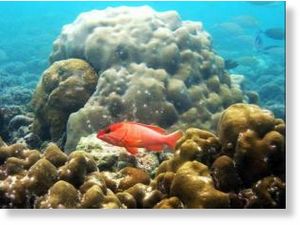 Dr Dave Smith and Dr Dave Suggett visited Curieuse Island as part of an ongoing study funded by Mitsubishi Corporation in conjunction with the Earthwatch Institute. They were joined by PhD student Seb Hennige as well as local Seychelles collaborators.
The island, which is managed by the Seychelles Centre of Marine Research and Technology-Marine Protected Areas (SCMRT-MPA), is home to over 200 giant tortoises but it was thought no coral reefs were present.
Dr Smith said: 'Diving revealed an extensive coral reef to the south of the island, at a depth which would not be visible to the occasional snorkeller.'