Earth Changes
Storm Center
YouTube
Thu, 11 Nov 2021 13:54 UTC
---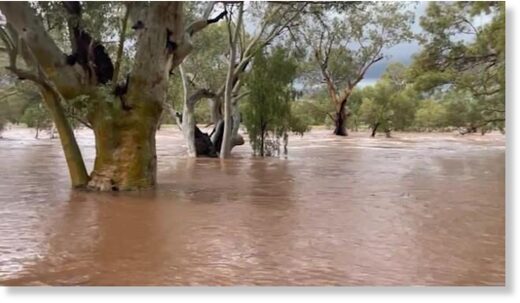 Record rainfalls have hit Alice Springs in central Australia as wild weather warnings cover large parts of the country.
More than 100mm of rain
was recorded in Alice Springs, turning the usual trickle of the Todd River into a torrent.
Large areas of Australia's eastern states are on floodwatch
, with heavy falls already hitting southern Queensland.
---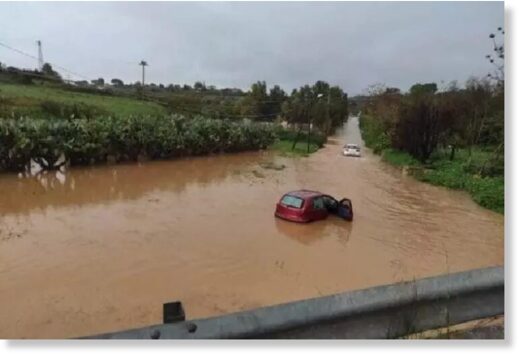 Emergency situation in Agrigento province of Sicily.
The Agrigento area of Sicily has been hammered by heavy rains leading to widespread flooding and landslides on the southwest coast of the Italian island.
The prefect of Agrigento, Maria Rita Cocciufa, has issued a "heartfelt appeal" to residents in the area, urging them: "do not get in the car and do not leave the house, the condition is of great, very great, risk due to the wave of severe weather that is affecting the northern area of the province of Agrigento."
---
Doyle Rice
USA Today
Thu, 11 Nov 2021 10:59 UTC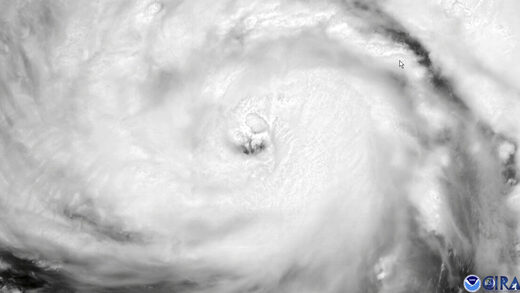 Weather-related events have resulted in
the deaths of 538 Americans in 2021, making it the deadliest year for major weather disasters in the USA since 2017, when Hurricane Maria devastated Puerto Rico, killing more than 3,000 people
, the National Oceanic and Atmospheric Administration (NOAA) reported.
For the 50 U.S. states, 2021 is the deadliest weather year since 2011, when 764 died primarily because of several violent tornado outbreaks across the South.
"These deaths in 2021 are mostly the result of
extreme summer heat in the Pacific Northwest, extreme cold across the South during the February freeze and Hurricane Ida across many states
," Adam Smith, a climatologist with NOAA's National Centers for Environmental Information, told
USA TODAY
.
Comment:
There's increasing evidence supporting the theory of
Earth Changes and the Human-Cosmic Connection
, as described by Pierre Lescaudron in his book of the same name. With the
anniversary
quakes in Mexico this year being just one recent example. And, if this year's uptick in extreme weather phenomena is anything to go by, when we consider the suffering much of the world's population has endured over the past year, particularly with the addition of the violations to their person with the coercive, experimental Covid injection and passport roll out, 2022 could be a doozy.
It may be that we're already seeing signs of what's up ahead this winter with
deadly
blizzards, record breaking snowfall, and winter appearing in some regions up to a month earlier than usual:
Also check out SOTT radio's:
And SOTT's monthly documentary
Earth Changes Summary - October 2021 - Extreme Weather, Planetary Upheaval, Meteor Fireballs
:
---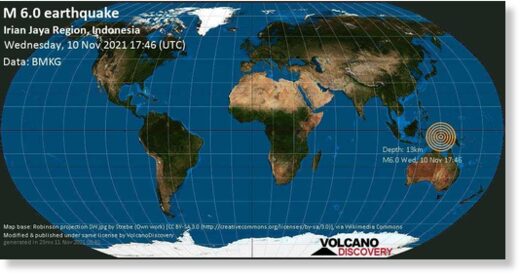 Very strong magnitude 6.0 earthquake at 13 km depth
Date & time: Nov 10, 2021 17:46:41 UTC
Local time at epicenter: Thursday, Nov 11, 2021 2:46 am (GMT +9)
Magnitude: 6
Depth: 13.0 km
Epicenter
latitude / longitude: 4.29°S / 134.22°E↗
(Aru Sea, Indonesia)
---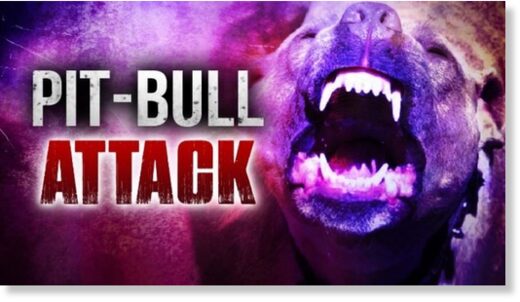 A newborn baby was killed in a dog attack in Kenly on Wednesday.
According to the Kenly chief of police, the attack happened around 5 a.m. It is being investigated as an accident.
The 8-day-old baby boy was reportedly attacked by a female pit bull at a home on North Church Street.
The pit bull was seized by animal control and officials said it will be euthanized.
"First and foremost, we offer our sincere condolences to the family and their friends during this difficult time," Chief Josh Gibson said.
Comment:
This is the
12th fatality
due to a dog attack reported from across the world
in the last 38 days
, the others being:
---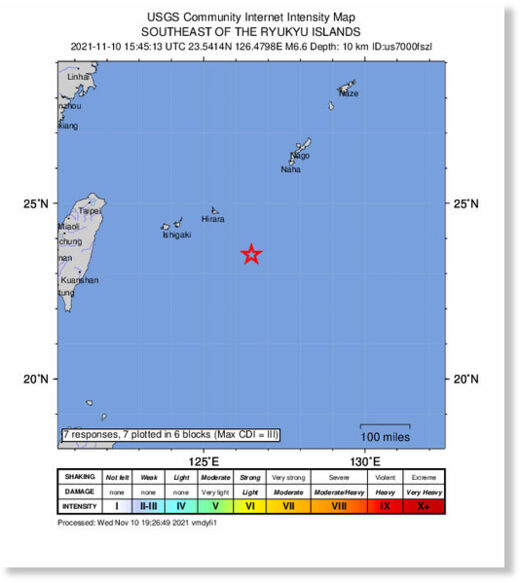 A preliminary-magnitude 6.6 earthquake struck near Japan's Ryukyu Islands on Wednesday, according to the U.S. Geological Survey.
There were no immediate reports of injuries or major damage, and whether the quake would trigger a tsunami warning was unclear.
The earthquake's epicenter was located in the Pacific Ocean, about 115 miles southeast of city of Hirara on Japan's island of Miyako, the USGS said. It occurred at 11:45 p.m. local time and
its depth was measured at just over 6 miles.
---
Ryan Woo
Reuters
Wed, 10 Nov 2021 14:19 UTC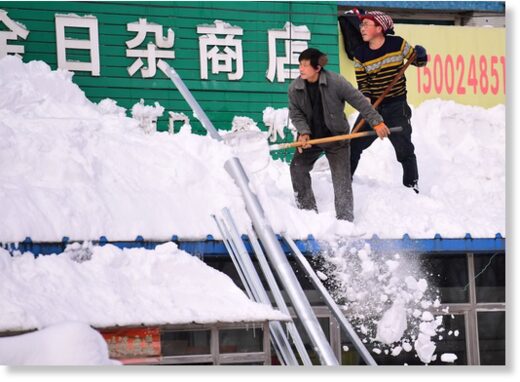 Snowstorms have wreaked havoc in northeast China in recent days,
with record snowfall in some parts snarling traffic, disrupting train services and raising concerns about power supply as temperatures plunged, state media reported on Wednesday.
Traffic in Liaoning province has been severely disrupted, with the majority of expressway toll stations shut as of Tuesday. Passenger stations were also closed, except those in the cities of Dalian and Dandong.
Since the arrival of a cold wave on Sunday,
temperatures in northeastern China had plunged by as much as 14 degrees Celsius in certain areas by Tuesday.
Meteorological departments in Liaoning and the province of Jilin have issued red alerts for snowstorms, the most severe in a four-tier colour-coded weather warning system.
---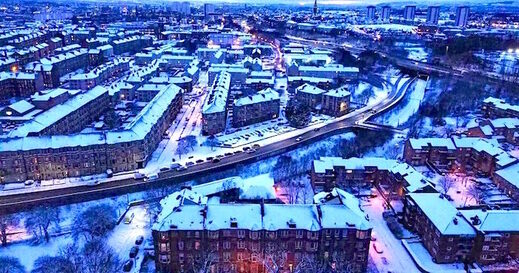 We're publishing a guest post on the eve of COP26 by journalist Chris Morrison that asks why journalists and politicians are so willing to accept at face value a scientific hypothesis that relies on the outputs of climate models, given that the track record of those models in predicting the future has so far proved to be very poor?
Delegates gathering in Glasgow for COP26 to try to stop the climate heating up face the rather inconvenient truth that the average temperature in Scotland hasn't moved for about
15 years.
Indeed IPCC members might wish to cast a new hockey temperature stick. With the handle now stretched along the horizontal, rather than the vertical, it can replace the previous climate mascot - long gone after some unseemly disputes over the surprise abolition of the medieval warming period and the subsequent mini ice age.
---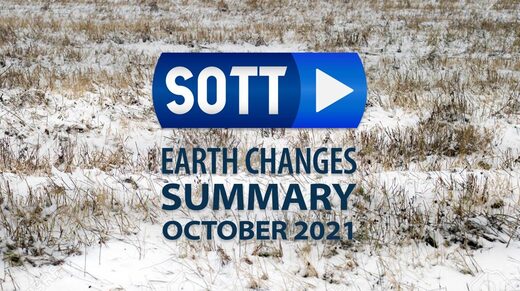 Deluges, unseasonable snow, and anomalous electrical phenomena wreaked havoc around the world throughout October.
At least 15 people died and 1.7 million were affected by heavy floods in Shanxi province, China, one of the country's main coal-producing areas. Was this, in part anyway, why at least 60 coal mines suspended operations, forcing 'rolling blackouts' in China? An estimated 190,000 hectares of crops were also destroyed by these floods in China, compounding global food shortages.
Elsewhere, Typhoon Kompasu killed at least 26 people in the Philippines, and at least 150 people died in devastating flash-floods and landslides across northern India and Nepal when 100-year rainfall records were broken. Also last month, Italy was slammed by a new all-time European record rainfall, turning streets and plazas into rivers and lakes. In the US, a 'bomb cyclone' and an 'atmospheric river' triggered flooding in California, Washington and Oregon.
Alaska, Canada, Switzerland, Greece, and Finland reported heavy early 'winter' snow in October, but the US was most affected, with parts of western and southern states blanketed in white. South Dakota reported 27 inches of early snow in 24 hours, while nearly 90 runners had to be rescued after snow halted an ultra-marathon in Utah.
Earthquakes small and large pinged every region of the planet in October, with the most fatal being a shallow magnitude 5.9 earthquake in southwestern Pakistan, which killed at least 20 people and left another 300 injured. Meanwhile, the major eruption of a volcano in the Canary Islands continues, blowing open two more fissures in October, dramatically incinerating 10,000 homes in the process, spewing sulphur dioxide all across Europe, and generating spectacular sunsets.
All this is occurring while food production and distribution networks are collapsing in many parts of the world. Earth changes and 'natural climate change' are the main cause, but the elites' 'clever' attempt to deal with it by 'acclimatizing' the population to scarcity via their 'Great Reset' is only making the situation worse.
Imagine what would happen if the volumes of rainfall you're about to see in this month's video... fell as snow?
Please pay attention, and prepare accordingly!
All this and more in our SOTT Earth Changes Summary for October 2021:
---