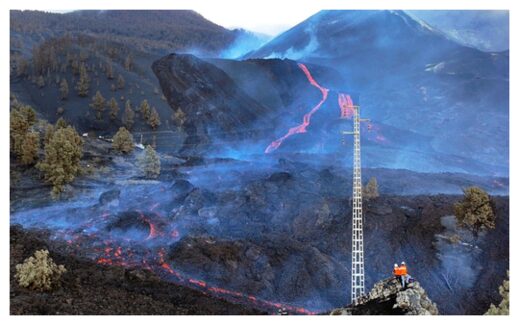 As a volcano continues to spew hot lava on a little island in Spain,
scientists from around the world are racing to the area to study and learn about the rare eruption.
The Cumbre Vieja volcano has been erupting since September on La Palma, a small island in the Canary Islands of Spain. So far, nearly 1,150 buildings and surrounding land has been destroyed,
according to Reuters
.
According to an
analysis by The Associated Press
, volcanic eruptions to this degree are
incredibly rare,
occurring once, or at most twice, in a generation in the Canary Islands. Parts of the Canary Islands are actually still growing, as magma accumulates underneath and,
as is happening in La Palma
, lava peninsulas are forming beyond the coastline.
The Smithsonian Institution
estimates there are currently 48 volcanoes currently in "continuing eruption status" worldwide.
In order to help ease the devastation the Cumbre Vieja volcano continues to cause, scientists are flocking to La Palma to study the eruption up close. They're hoping to learn how volcanoes form, develop and how and when they stop erupting.