FORT MADISON, Iowa - The swollen Mississippi River ran over the top of at least 11 more levees on Wednesday as floodwaters swallowed up more U.S. farmland, adding to billion-dollar losses and
feeding global food inflation fears
.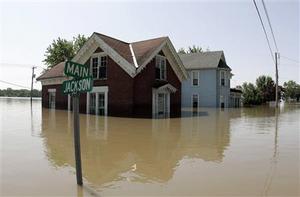 ©REUTERS/Frank Polich
Houses sit in flood waters from the Mississippi River in La Grange, Missouri June 18, 2008.
Volunteers and aid workers were piling sandbags up and down the most important U.S. inland waterway to try to protect more levees and thousands of acres of prime crop land threatened as the river's crest moves south after last week's torrential rains.
"Their misfortune had been our fortune. I'd rather it hadn't come at the expense of others. But it is what it is," Steve Cirinna of the Lee County Emergency Management Agency said of the levee breaches, which lowered the river.