For the first time, researchers have taken a detailed look at what lies beneath all of Iceland's volcanoes - and found a world far more complex than they ever imagined.
They mapped an elaborate maze of magma chambers - work that could one day help scientists better understand how earthquakes and volcanic eruptions occur in Iceland and elsewhere in the world.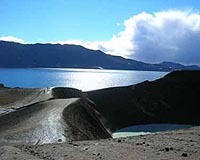 ©Unknown
Formed by an eruption from Askja in 1875, Lake Öskjuvatn is the deepest lake in Iceland at 735 feet (224 meters).
Knowing where magma chambers are located is a key first step to understanding the chemical composition of the molten rock that is flowing within them - and of the gases that are released when a volcano erupts, explained Daniel Kelley, doctoral student in earth sciences at Ohio State University.