A cow trapped on a cliff ledge has been airlifted to safety by a military helicopter two weeks after a bullock owned by the same farmer had to be rescued in a similar operation.
The Hereford-cross heifer was believed to have slipped while trying to escape dogs and ended up 150 feet below the cliff top at Gwennap Head, near Lands End, Cornwall.
It was winched to safety by the crew of a Sea King helicopter from the Royal Naval air station at Culdrose. Two weeks ago a Charolais steer belonging to the same farmer Andrew Flower was rescued from a spot only feet away.
On that occasion the mission was delayed for three days due to a dispute between Ministry of Defence and RSPCA officials over who would pay the £5,000 rescue bill. The MoD eventually agreed to waive the fee, saying it was treating the rescue as part of an exercise.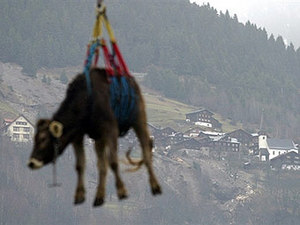 ©AFP