Residents of the four most vulnerable flood-affected areas in Gippsland were last night being urged to evacuate rather than risk being stranded by waters expected to reach 1.6 metres above normal levels.
Authorities were suggesting evacuations as Gippsland entered its fourth day of flooding after the
heaviest rainfalls in almost 40 years.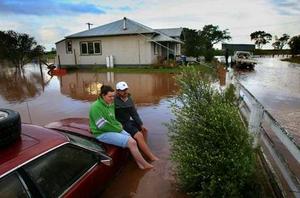 ©Craig Sillitoe
Not going anywhere: Scott Elliott and partner Ashlee Holmes survey the water surrounding their Newry home.