Strange mixtures of helium gas have been discovered leaking from the ground in Nevada.
To the surprise of geologists, helium-3 and other gases, which are normally associated volcanoes, are seeping up through non-volcanic ground there.
The discovery could reveal some secrets about how hot fluids deep in the crust control earthquakes as well as lead to new geothermal energy sources.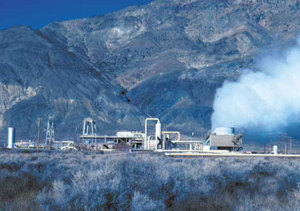 ©BLM
Scientists detected excess helium-3 at the Dixie Valley geothermal plant in central Nevada, shown here.