Highly colored industrial waste water is a serious environmental problem as it seriously discolors waterways as well as blocking sunlight for photosynthesizing plant species in the water. Now, researchers in Algeria have discovered that nothing more sophisticated than orange peel could be used to remove acidic dyes from industrial effluent.
They describe their findings in a forthcoming issue of the
International Journal of Environment and Pollution
.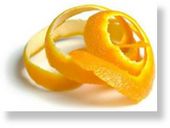 "Synthetic dyes are extensively used by industries including dye houses, paper printers, textile dyers, color photography and as additives in petroleum products," explains Benaïssa Houcine of the Laboratory of Sorbent Materials and Water Treatment, Department of Chemistry-Faculty of Sciences, at University of Tlemcen, in Algeria. "The effluents of these industries are highly colored, and disposal of these wastes into the environment can be extremely deleterious. Their presence in watercourses is aesthetically unacceptable and may be visible at concentration as low as 1 ppm (part per million).