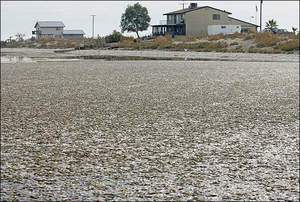 ©Desert Sun
Cold snap [
or global COOLING?
] blamed for winter die-off
Last month's cold snap has caused waves of dead fish to flood shores along the Salton Sea in a rare winter die-off.
It's unclear how many of the sea's estimated 200 million fish perished, but hundreds of thousands of rotting fish floated along the shoreline at Desert Shores on Friday.
"It smells worse than cow (manure)," Desert Shores resident Chuck Friedly said Friday.