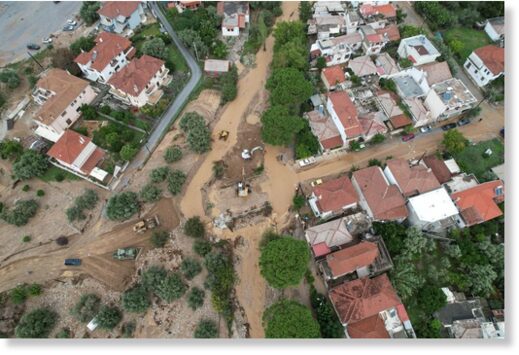 Torrential rain battered central Greece, flooding streets, homes and businesses in the port city of Volos and on the island of Evia, just three weeks after devastating Storm Daniel killed 16 people in the wider region.
A private helicopter crashed into the sea in northern Evia, east of the Greek capital Athens, and a search and rescue operation was underway.
It was not immediately clear what caused the accident.
"The private helicopter, an A-109 type, was en route to Volos city with at least one person on board," a civil aviation official told Reuters.
More than 250 people have been evacuated from the area since Storm Elias struck on Wednesday afternoon, the fire brigade said on Thursday, adding that it had so far received 1,200 calls for help.
The storm hit Volos with rain so heavy that water levels in the city and its suburbs rose rapidly in a few hours. A nearby stream overflowed, adding to the flooding.