Ocean surface currents have long been the focus of research due to the role they play in weather, climate and transportation of pollutants, yet essential aspects of these currents remain unknown.
By employing a new technique - based on the same principle as police speed-measuring radar guns - to satellite radar data, scientists can now obtain information necessary to understand better the strength and variability of surface current regimes and their relevance for climate change.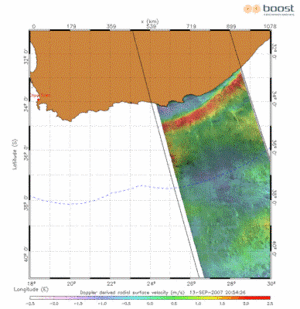 ©ESA - BOOST Technologies
Direct measurements of upstream surface flow of the Greater Agulhas Current as obtained from ASAR Wide Swath Mode on 13, 16, 19 and 22 September 2007. The radial surface velocity is marked in the colour bar in metres per second.