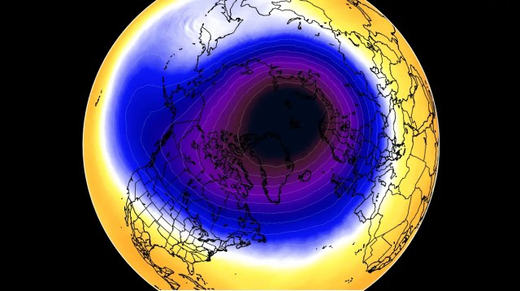 Winter 2023-24 is approaching, and a new Polar Vortex is strengthening in the Stratosphere over the North Pole.
In recent years, the phrase 'Polar Vortex' has been adopted by the climate cabal to mean
descending Arctic air masses
. In this article it will reflect the strength of the stratospheric polar circulation which,
whether it be weak or strong,
plays a crucial part in our Winter weather.
As we head into autumn, the Sun gets lower and the polar regions begin to cool as there is less energy to fuel them.
However, as polar temperatures drop, the atmosphere further south remains relatively warm. This causes a strong temperature difference between the polar and sub-tropical regions, and a large low-pressure (cyclonic) circulation starts to develop across the Northern Hemisphere, extending from the surface layers to high up into the atmosphere — the 'Polar Vortex'.