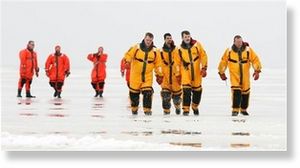 Columbus - More than 100 people were rescued Saturday from a miles-wide slab of ice that floated away from the Ohio shoreline of Lake Erie, authorities said.
One person died, said Ottawa County Sheriff Bob Bratton. He said 100 to 125 others were rescued by late afternoon.
Several ships and helicopters from Toledo and Marblehead, and from Detroit, were sent to rescue the people from the ice floe.
Authorities said fishermen apparently used wooden pallets to create a bridge over a crack in the ice so they could go farther out on the lake. But the planks fell into the water when the ice shifted, stranding the fishermen about 1,000 yards off shore.
Ice on western sections of Lake Erie is up to 2 feet thick, National Weather Service meteorologist Bill Randel said. He said it started to crack as temperatures rose above freezing this weekend and wind gusting to 35 mph pushed on the ice.