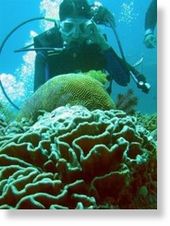 Poznan, Poland - Almost a fifth of the planet's coral reefs have died and carbon emissions are largely to blame, according to an NGO study released Wednesday.
The report, released by the Global Coral Reef Monitoring Network, warned that on current trends, growing levels of greenhouse gases will destroy many of the remaining reefs over the next 20 to 40 years.
"If nothing is done to substantially cut emissions, we could effectively lose coral reefs as we know them, with major coral extinctions," said Clive Wilkinson, the organisation's coordinator.
The paper was issued on the sidelines of the December 1-12 negotiations on a new global treaty on climate change, taking place under the UN flag.
Half a billion people around the world depend on coral reefs for food and tourism, according to a common estimate.