Austin, Texas - here is over a half a million dollars in damages after a weekend fire at Steiner Ranch on Country Trails Lane.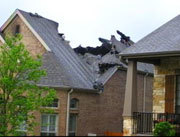 ©KXAN
Lake Travis fire and rescue crews said two adults and a baby were in the two-story house when it was hit by lightning.
Emergency crews reached the house just before 7 a.m. Monday.