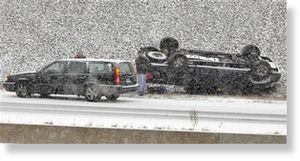 A winter storm packing snow, freezing rain and biting wind cut power to tens of thousands of customers Friday, disrupted travel and gave schoolchildren from Iowa to New England an early start on their holiday break. "One thing about it, you're going to have a white Christmas this year," said Lee Longdyke, as he shoveled a sidewalk in Pontiac, Mich., for the third time Friday morning. More than 200 flights were canceled at Chicago's O'Hare International Airport, and more than 650 at three New York City-area airports. Many remaining flights had hourslong delays.
Runways at Milwaukee's airport were closed for much of the morning because snowplows could not keep up with "whiteout conditions," airport spokeswoman Pat Rowe said.
Snowfall affected a large region, but the worst of the ice storm - and resulting power outages - was in a band across northern Illinois, Indiana and Ohio. Power companies reported 60,000 customers in Illinois without service Friday, more than 35,000 in Ohio, and a whopping 180,000 in Indiana, where the area around Fort Wayne was particularly hard-hit.