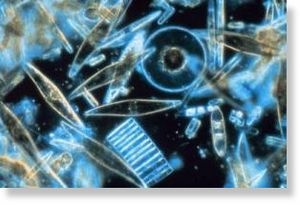 The evolutionary history of diatoms -- abundant oceanic plankton that remove billions of tons of carbon dioxide from the air each year -- needs to be rewritten, according to a new Cornell study. The findings suggest that after a sudden rise in species numbers, diatoms abruptly declined about 33 million years ago -- trends that coincided with severe global cooling.
The study is published in the Jan. 8 issue of the journal
Nature
.
The research casts doubt on the long-held theory that diatoms' success was tied to an influx of nutrients into the oceans from the rise of grasslands about 18 million years ago. New evidence from a study led by graduate student Dan Rabosky of Cornell's Department of Ecology and Evolutionary Biology and the Cornell Laboratory of Ornithology takes into account a widespread problem in paleontology: that younger fossils are easier to find than older ones.
"We just tried to address the simple fact that the number of available fossils is colossally greater from recent time periods than from earlier time periods," Rabosky said. "It's a pretty standard correction in some fields, but it hasn't been applied to planktonic paleontology up till now."