Five-metre high waves smashed a Russian tanker in half on Sunday, spilling 1,300 tonnes of fuel oil into the Kerch Strait between Russia and Ukraine and sank two other cargo ships, officials said.
Two vessels each carrying some 2,000 tonnes of sulphur went under nearby and eight crew members were reportedly missing amid worsening weather in waters between the Black Sea and the Sea of Azov.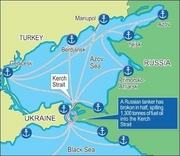 ©AFP
Five-metre high waves have sunk three ships in the Kerch Strait. A Russian oil tanker was smashed in half causing it to spill 1,300 tonnes of fuel oil into the strait that divides Russia and Ukraine.