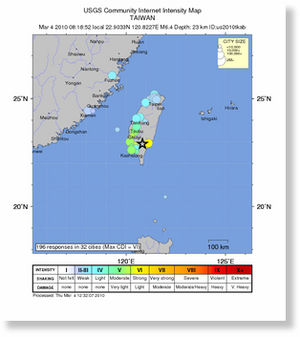 Taipei - An earthquake of magnitude 6.4 shook Taiwan and stopped transport early Thursday, but there were no immediate reports of casualties or major damage, officials said.
The epicentre of the quake, which struck at 8:18 am (0018 GMT), was in mountains around the southern city of Kaohsiung at a depth of 5 km (3 miles), the Central Weather Bureau said.
Taiwan still uses the Richter scale to measure earthquake intensity. The U.S. Geological Survey put the quake's magnitude at 6.4, revised from an initial 6.5, and put the depth at 35 km (22 miles).
The quake was felt in the capital Taipei, where buildings shook for several minutes. Services on the southern half of Taiwan's high-speed rail linking Taipei with the south were stopped.
Earthquakes occur frequently in Taiwan, which lies on a seismically active stretch of the Pacific basin.
One of Taiwan's worst-recorded quakes occurred in September 1999. Measuring 7.6, it killed more than 2,400 people and destroyed or damaged 50,000 buildings.