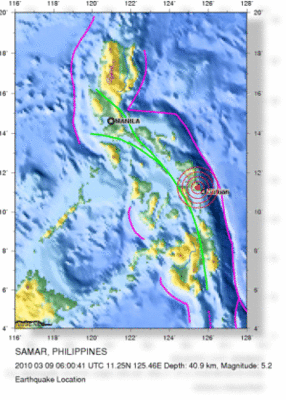 Vigan City - Two successive earthquakes hit the Batanes Group of Islands early morning Tuesday.
Julius Galdiano of the Philippine Institute of Volcanology and Seismology branch office in Sinait, Ilocos Sur said the first quake with 5.1 magnitude occurred at 1:22 a.m. Tuesday, with Intensity 5 felt at the center of the province while intensity 4 was felt in Batan Island.
The epicenter of the quake according to the United States Geological Survey was located 30 km south southeast of Basco, Batanes with a depth of 10 kilometers.
After 20 minutes or at 1:40 a.m, an aftershock was felt in the same place with a magnitude of 4.8 magnitude.
Galdiano also revealed that before the quakes, a weak temblor was also felt and was centered 80 kilometers northwest of Vigan City at about 10:28 p.m. last Monday.
According to Phivolcs, no damage had been reported from the quakes.