The Mediterranean is at much higher risk than thought of a major quake of the kind that struck hundreds of year ago to trigger a huge tsunami that wiped out Crete and devastated coastal regions as far away as Egypt, Dubrovnic and Sicily.
The quake of magnitude 8 to 8.5 on 21 July of AD 365 claimed the lives of thousands of people in Alexandria alone and lifted a 200 mile stretch of the coastline of western Crete by up to 10 metres above sea level, tilting Crete to the north east.
Today, a Cambridge University team says it was surprised to find that this giant 10 metre uplift occurred in one go.
Morever, it has found that similar quakes could strike in as little as 800 years as stresses and strains build up in the seabed.
The study by Beth Shaw and her colleagues in the journal Nature Geoscience presents a fresh analysis of the Mediterranean seafloor, and suggests that a previously overlooked fault could be the source of the large earthquake that caused the destruction of AD365.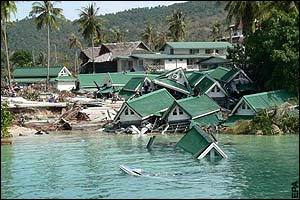 ©Telegraph UK
A Cambridge University team believes that the Mediterranean could be at risk from a devastating tsunami