Ants attacked by specialist spores bite low-hanging leaves before dying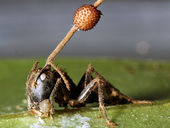 The line between fungus biology and late-night television just got blurrier.
A fungus that attacks living ants apparently manipulates their behavior for its own benefit, an international research team reports in the September American
Naturalist
.
When the
Ophiocordyceps unilateralis
fungus strikes, an infected ant climbs to a leaf not far off the ground (often on the north-northwest side of a tree), bites in and dies with jaws locked in place. Experiments now show that these low-hanging leaves give the fungus prime conditions for growing a spore-bearing spike out of the ant's neck, says study coauthor David Hughes of Harvard University.