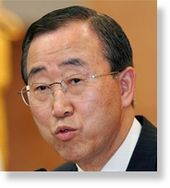 Speaking in Korea at the World Environment Forum 2009 UN Secretary General Ban Ki Moon has given a
speech
that is remarkable for its over-the-top rhetoric and also its disconnect from anything resembling reality. He starts with an apocalyptic warning:
If we fail to act, climate change will intensify droughts, floods and other natural disasters.

Water shortages will affect hundreds of millions of people. Malnutrition will engulf large parts of the developing world. Tensions will worsen. Social unrest - even violence - could follow.

The damage to national economies will be enormous. The human suffering will be incalculable.