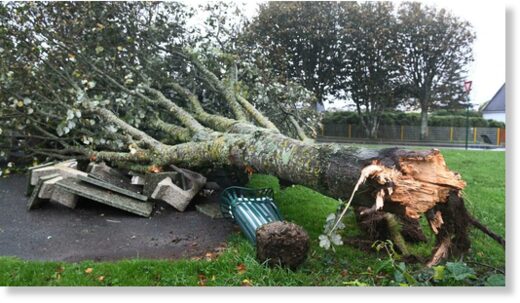 A powerful autumn storm, named Aurore, blasted parts of western Europe on Thursday, knocking out power to a quarter of a million French homes and damaging buildings in at least four countries.
Train services were disrupted by uprooted trees littering tracks in France, Germany and the Netherlands and roofs were ripped off many buildings,
including at part of the stadium used by the professional soccer club in the Belgian port city of Antwerp.
A tornado early Thursday caused damage in Schwentinental,
a town near the German Baltic Sea port city of Kiel. Fire service official Kai Laessig told German news agency dpa that it destroyed greenhouses and brought down trees, which hit cars, but no one was injured. Several houses were damaged.