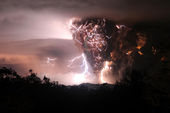 A 200-year-old report by a sea captain and a stunning photograph of the 2008 eruption of Mount Chaiten are helping scientists at the University of Illinois better understand strong volcanic plumes.
in a paper to appear in the March 26 issue of the journal
Nature
, the scientists show that the spontaneous formation of a "volcanic mesocyclone" - a cyclonically rotating columnar vortex - causes the volcanic plume to rotate about its axis. The rotation, in turn, triggers a sheath of lightning and creates waterspouts or dust devils. The origins of these volcanic phenomena were previously unexplained.
"Rotation is an essential element of a strong volcanic plume," said Pinaki Chakraborty, a postdoctoral researcher and the paper's lead author. "By taking into account the rotation, we can better predict the effects of volcanic eruptions."