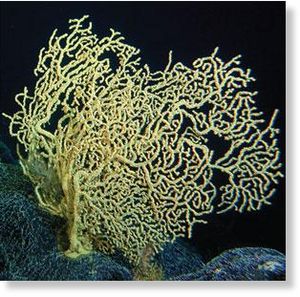 Giant deep-sea corals don't get around much, but what they lack in mobility they make up for in longevity. A new study has discovered that some coral colonies can "live" for more than 4000 years, showing that the animals grow far more slowly than was thought.
It is this extremely slow growth that is the secret of the corals' long life, says Brendan Roark, at Texas A&M University.
The finding may have grave implications for the conservation of the corals' ecosystems. "Because corals are so big, they form the habitat for many other species in the coral bed and if you take them away, it will take thousands of years for similarly sized organisms to grow back," says Roark.
The gold coral
Gerardia
and the black coral
Leiopathes
both grow several metres tall, at depths of up to 500 metres in oceans around Hawaii. Whilst other studies had estimated their age at between a few hundred years and at most 3000 years, Roark argues that what had been considered "annual" growth rings actually take much longer to form.