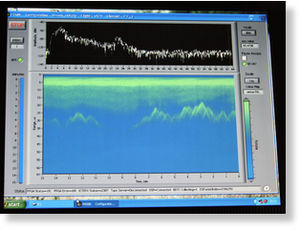 A series of prefabricated buildings perched on stilts create a boxy but unremarkable hamlet on the Antarctic ice. What is astonishing about this research base is that it is set 500 metres above the peaks of a 3500-metre mountain range.
The Gamburtsev mountains are not a new discovery - they were first located 50 years ago by a team of Russian scientists. But little was known about their scale and morphology. Now, an international team has returned with data revealing that if you could strip away the ice, the view would look rather like the European Alps.
The team set up camp in two locations near to Dome A - the highest point on the ice sheet, where temperatures average -30 °C.
For weeks they flew two aircraft over the ice, exploring the hidden peaks with radar and aeromagnetic sensors, and covering a distance equivalent to three trips around the globe. Gravity sensors on the surface of the ice collected yet more data.