Temperatures sink to record lows while snow depths are twice the normal level - is Switzerland's seemingly abnormal winter another indicator of climate change?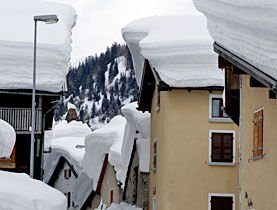 Bern University climatologist Heinz Wanner tells
swissinfo
that although the current winter season may appear colder and snowier than usual the larger historical picture shows it isn't as severe as it seems.
The head of the Climatology and Meteorology Research Group (Klimet), Wanner has for three decades been studying the climate to reconstruct conditions as they were up to 10,000 years ago. He's also working to understand the influence humans have had on weather patterns.
Wanner explains that the deep cold and record snow has to do largely with changes in the air pressure thousands of kilometres away between the Azores and Iceland. Conditions there influence Europe's wind patterns, which this year have sent storm after storm barreling across Switzerland.
It's a natural cycle, he says, but that doesn't mean humans aren't influencing those events.