Mountain pine beetles appear to be doing more than killing large swaths of forests in the Rocky Mountains. Scientists suspect they are also altering local weather patterns and air quality.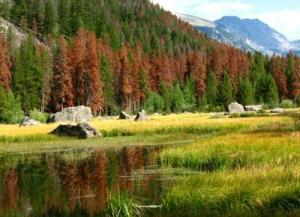 ©Carlye Calvin, UCAR
Mountain pine beetles have killed large numbers of trees in the Rockies.
A new international field project, led by scientists at the National Center for Atmospheric Research (NCAR), is exploring how trees and other vegetation influence rainfall, temperatures, smog, and other aspects of the atmosphere. Plants take in and emit chemicals that affect the air, and they also absorb varying amounts of incoming heat from the Sun. When portions of a forest die, the local atmosphere can change in subtle ways.
"Forests help control the atmosphere, and there's a big difference between the impacts of a living forest and a dead forest," says NCAR scientist Alex Guenther, a principal investigator on the project. "With a dead forest, we may get different rainfall patterns, for example."