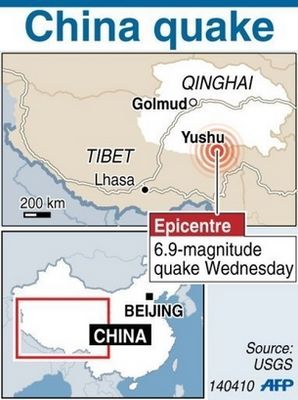 A series of strong earthquakes struck China's western Qinghai province Wednesday, toppling houses, killing at least 67 people and burying many others in a mountainous rural area, officials and state media said.
The U.S. Geological Survey
reported
on its Web site that a magnitude 6.9 temblor struck an area in southern Qinghai, near Tibet, on Wednesday morning and was followed by three quakes in the same area.
The main quake sent residents fleeing as it toppled houses made of mud and wood, said Karsum Nyima, the Yushu county television station's deputy head of news, speaking by phone with broadcaster CCTV.
"In a flash, the houses went down. It was a terrible earthquake," he said. "In a small park, there is a Buddhist tower and the top of the tower fell off.
"Everybody is out on the streets, standing in front of their houses, trying to find their family members," he said, adding that school buildings had not collapsed but that students had been evacuated and were assembled in outdoor playgrounds.