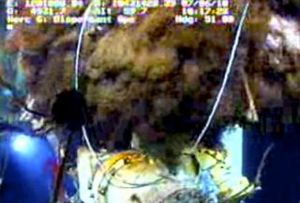 The US says the latest containment technique employed by BP to stop the oil spill in the Gulf of Mexico may have increased the oil flow rate by up to five percent.
Speaking at a Senate Energy and Natural Resources committee hearing on Wednesday, US Interior Secretary Ken Salazar said that BP's capping tactic may have intensified the flow of gushing oil.
"The rate of increase may have been somewhere between 4 and 5 percent over what it was before," Salazar was quoted by AFP as saying.
The London-based company has managed to insert a loose-fitting containment cap over the well. But the oil still is gushing and BP says the containment operation won't be completed until it drills a relief well -- a process that is expected to last until August.
"I am still disgusted with the lack of leadership and no one stepping up to take charge and say, 'We're not going to let the oil hit the beaches,'" said Tony Kennon, mayor of Orange Beach, Alabama, who on Saturday confronted a top BP official at a news conference, CNN reported.