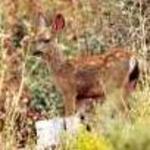 ©Robert Durell/Los Angeles Times
A young deer watches firefighters.
The fires burning in Big Sur and Goleta are forcing evacuations, destroying thousands of acres and threatening more damage. Among the victims of the wildfires are animals--both wild, like this deer in Big Sur, and domestic. Pets have had to be sheltered, animals have been forced from their habitat and some condor chicks may have been lost.