The Conservation Law Foundation (CLF) and others have just filed* a scientific petition with the federal government seeking endangered species protection for the Atlantic wolffish, a fish threatened with extinction due to years of overharvesting and habitat loss due to modern fishing gear. If the petition is successful, this will be the first listing of a marine fish as an endangered in New England.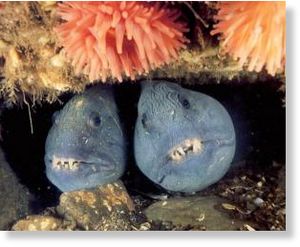 With a long eel-like tail and a mouth full of large canine teeth, the wolffish (
Anarhichas lupus)
is one of New England 's most unique ocean fish species and also one of the most endangered. CLF's petition cites federal and independent scientific studies that show, over the past twenty years, dramatic declines in wolffish population and destruction of the deep underwater habitat that the fish needs to successfully reproduce and survive.