One of the smallest seals - the Caspian - has joined a growing list of mammal species in danger of extinction.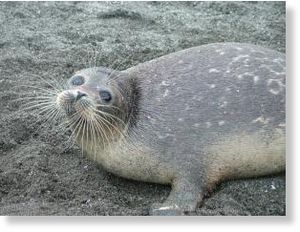 Scientists from the University of Leeds together with international partners have documented the disastrous decline of the seal - a species found only in the land-locked waters of the Caspian Sea - in a series of surveys which reveal a 90 per cent drop in numbers in the last 100 years.
The research findings have prompted the International Union for Conservation of Nature (IUCN) to move the Caspian seal from the Vulnerable category to Endangered on its official IUCN Red List of Threatened Species, announced today in Barcelona [06 October 2008].
Dr Simon Goodman of Leeds' Faculty of Biological Sciences says: "Each female has just one pup a year, so with numbers at such a low levels, every fertile female that dies is a nail in the coffin of the species. We're hoping that the seal's change in Red List status will help raise awareness about their plight, and the many important conservation issues facing the whole Caspian ecosystem."
Commercial hunting, habitat degradation, disease, pollution and drowning in fishing nets have caused the population of the seal collapse from more than 1 million at the start of the 20th century to around 100,000 today.