Earth Changes
RICHMOND, Virginia -- Scientists have confirmed the second case of a "virgin birth" in a shark.
---
How likely is it that three neighboring volcanoes would all erupt at the same time -- as the Kasatochi, Okmok and Cleveland volcanoes in the Aleutians did this summer?

About as likely as a storm that only appears once in a thousand years, says Anchorage volcanologist Peter Cervelli, who'll deliver a paper on the subject this winter to the American Geophysical Union.

In other words, seldom enough that Cervelli is now exploring the question of whether Alaska's triple eruption was only a coincidence involving three independent volcanoes or whether it was triggered by some common mechanism.
---
Fire officials prepared late Sunday for rapid growth of a wildfire blazing 20 miles north of downtown with the expected arrival of strong, dry wind gusts overnight.
---
The fate of the world's few remaining Western Grey Whales now rests on the outcome of appeals to Russian authorities and courts following the refusal of an oil consortium to consider alternatives to a proposal to lay an oil pipeline through a shallow lagoon crucial to the whales' food supplies.

Last month the Russian government ignored an outcry over project impacts on Piltun Lagoon to grant approval for the pipeline, part of the Sakhalin-1 project which includes oil giant Exxon and Russian, Japanese and Indian oil companies.

Only around 130 Western Gray Whales are left worldwide, including some 20 females able to reproduce. They gather in the seas around Sakhalin in Russia's far east for four months to feed and build up the fat to survive the rest of the year.

Piltun Lagoon produces organic matter crucial for benthos such as as sea stars, oysters, clams, sea cucumbers, brittle stars and sea anemones which form the Grey Whale's main food source.
---
Earthquake Details
Magnitude 6.2

Date-Time

* Sunday, October 12, 2008 at 20:55:42 UTC

Location 20.017°S, 64.939°W
Depth 356 km (221.2 miles) set by location program
Region CHUQUISACA, BOLIVIA
Distances 100 km (60 miles) ESE of Potosi, Bolivia
115 km (70 miles) SSE of Sucre, Bolivia
165 km (105 miles) N of Tarija, Bolivia
515 km (320 miles) SE of LA PAZ, Bolivia
Location Uncertainty horizontal +/- 6.2 km (3.9 miles); depth fixed by location program
Parameters NST=265, Nph=265, Dmin=533.4 km, Rmss=0.86 sec, Gp= 58°,
M-type=regional moment magnitude (Mw), Version=8
---
Brian K. Sullivan and Alex Morales
Bloomberg
Fri, 10 Oct 2008 18:28 UTC
Hurricane Norbert's winds strengthened to 165 kilometers (105 miles) per hour today as it continued on a track to strike Mexico's Baja California peninsula tomorrow. To the south, Tropical Storm Odile churned up Pacific waters off the Mexican coast.

Norbert, which again became a Category 2 hurricane after weakening yesterday, may produce a storm surge of as high as 1.5 meters (5 feet) when it makes landfall, the U.S. National Hurricane Center said on its Web site. The system was 395 kilometers southwest of Baja California shortly before 5 p.m. Miami time, and moving north at about 17 kph.
---
St. John, U.S. Virgin Islands: A strong earthquake jolted people awake Saturday in the U.S. and British Virgin Islands and nearby Puerto Rico. There were no immediate reports of damages.

The magnitude 6.1 quake was the strongest to hit Puerto Rico in 20 years, according to Christa von Hillebrandt, director of the seismic network on the Mayaguez campus of the University of Puerto Rico.
---
ITN
Sat, 11 Oct 2008 22:11 UTC
Twelve people have been killed and dozens seriously injured in Russia's Chechnya region in an earthquake which shook the Caucasus mountains.
---
Puerto San Carlos, Mexico -- Scores of people fled flooded homes Saturday as Hurricane Norbert lashed Mexico's southern Baja California peninsula with torrential rains and screaming winds.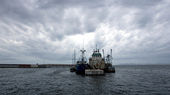 Norbert, with winds of up to 105 miles, was expected to hit land along a sparsely populated stretch north of the resort of Cabo San Lucas and then make a second landfall Saturday night in northwestern Mexico's mainland -- possibly as a hurricane, the U.S. National Hurricane Center said.
---
A strong earthquake reverberated through the Caucasus mountains on Saturday, killing at least five people and disrupting power supplies in Russia's Chechnya region, reports said.

The quake, measuring 6.3 on the Richter scale according to Strasbourg observatory estimates, was felt in five regions of the Russian north Caucasus and neighbouring Georgia and Armenia.

The dead were found in Chechnya's east, four of them killed in the Kurchaloy district and the other in Gudermes, said Itar-Tass news agency, citing Chechen vice emergency situations minister, Akhmed Dzheirkhanov.
---