Albany, NY - Thousands of utility customers around the Northeast awoke without power Wednesday, a day after the season's first big snowstorm blew through the region.
The wet snow fell on trees still covered in fall leaves, and its weight, combined with gusty wind, sent limbs crashing down on power lines.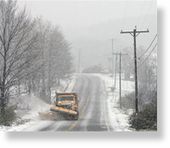 In upstate New York, more than 40,000 customers remained without power early Wednesday, most of them in the Mohawk Valley, Adirondacks and the Catskills, according to statements by utilities National Grid and New York State Electric & Gas.