High winds battered much of southern British Columbia Monday, leaving more than 200,000 people without power and stranded thousands more as almost every form of air and water transportation was affected.
Environment Canada estimated winds would reach 90 kilometres per hour, disrupting travel by ferries, float planes and even small regional commuter aircraft between the Lower Mainland and much of Vancouver Island.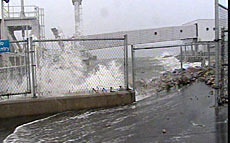 ©CBC News
Wind and waves washed through the Tsawwassen Ferry terminal Monday morning as a major storm shut down ferry service on several routes.