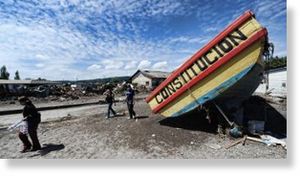 While scientists and geophysicists around the world are researching ways to identify when an earthquake may occur, it is still not possible to predict the exact time and magnitude of an earthquake. However, what is known is that certain places on the planet are always at risk from big tremors. Chile is one of those places.
One of the most seismically active areas on the planet, Chile has experienced 13 events of magnitude 7.0 or greater since the 1970s.
In 1960, it also experienced the world's strongest quake, magnitude 9.5, which, in combination with tsunami waves and earthquake devastation, left 1,655 dead and 2 million homeless.
Chile lies on a zone of quake and volcanic instability that encircles the Pacific Ocean known as the "Ring of Fire."