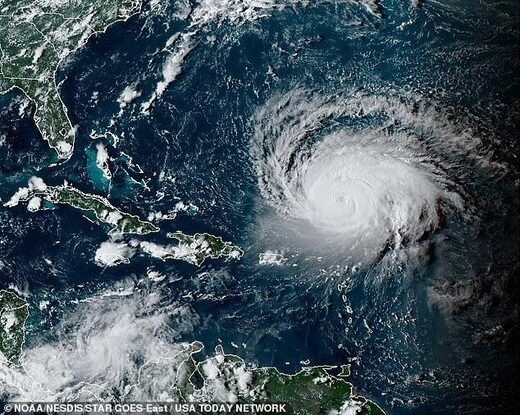 Hurricane Lee continues to grow stronger as it churns over the Atlantic and remains a threat to the coast of the northeast U.S. with dangerous rip currents.
Late on Sunday, the storm was centered about 285 miles north of the northern Leeward Islands. Its maximum sustained winds were clocked at 120 mph and it was moving northwest at 8 mph.
Last week, Lee strengthened from a Category 1 storm to a Category 5 storm in just one day. It lost strength, becoming a Category 2 storm in recent days, but now has grown stronger to a Category 3 and increased in size.
'We had the perfection conditions for a hurricane: warm waters and hardly any wind shear,' said Lee Ingles, a forecaster with the National Weather Service in San Juan.