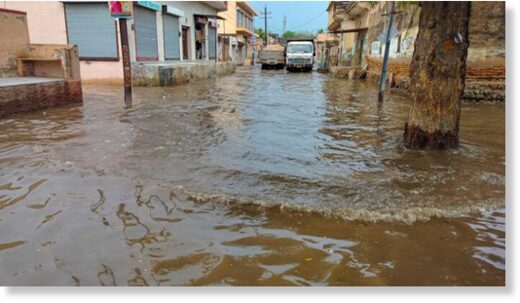 At least a dozen people died and several were injured in separate incidents due to heavy rain and thunderstorm in Rajasthan's Tonk district, officials said on Friday.
Accompanied by gusty winds, heavy rain battered several places in the district on Thursday night, leading to the loss of human lives and damage to houses. A thunder squall with a maximum speed of 96 kmph was reported at the Jaipur International Airport.
Meanwhile, the MeT issued an orange alert at several places in the state on Friday, forecasting heavy rain and strong thunderstorms reaching a speed of 50-60 kmph. Some places could also witness a hailstorm.
Tonk District Collector Chinmayee Gopal said the 12 deaths were reported from across the Tonk district -- three in Tonk city, three in Niwai block, two each in Malpura and Devli and one each in Toda Rai Singh and Uniara. The injured persons have been admitted to different hospitals in the district, Gopal said.